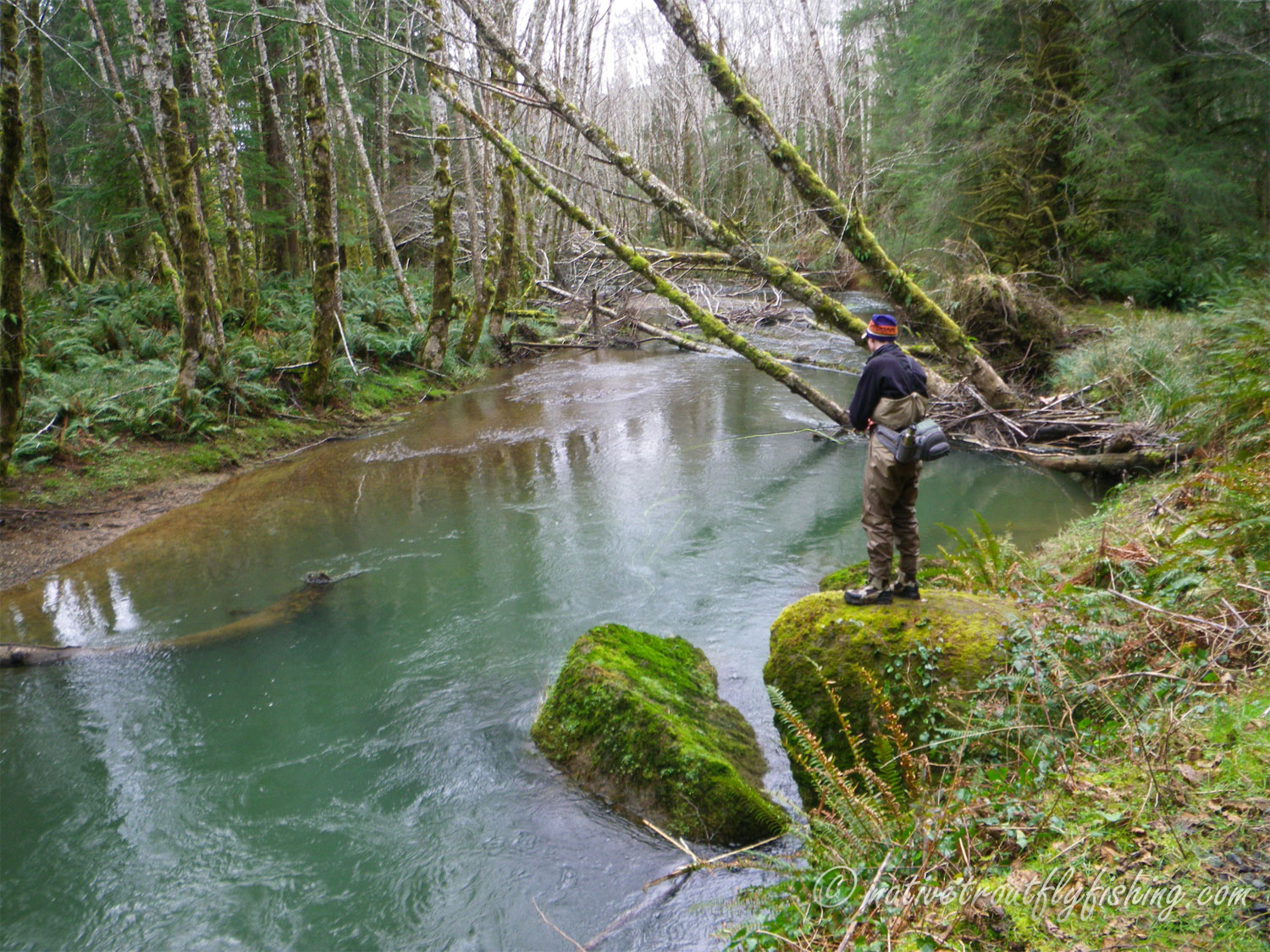 Native Coastal Cutthroat and steelhead water on a coastal rainforest stream
About This Site
This webpage is all about fly fishing for native salmonids, which include trout, salmon, char and their relatives. These fish exhibit an incredible amount of biodiversity and I have done my best to document it here. While there are numerous books and websites with illustrations and information on trout and salmon, there are relatively few that include actual photographs. On my trout and salmon page I have compiled pictures as well as information on species and subspecies of trout and salmon that I have caught. My blog features the adventures behind collecting these photographs, as well as news about the native trout populations and their conservation. This site also features information on a variety of fly-fishing destinations, as well as tying instructions for some of my favorite flies. All the pictures on this page were taken by me or my friends unless otherwise stated. It is my hope that this site will help to raise awareness of the biodiversity found in our native salmonids and the threats that they are facing, so that we may be better stewards of these beautiful fish.
Me with a native Coastal Rainbow Trout caught as part of a research project
About me
Fishing has been a part of my life for about as long as I can remember. I have lived in the Puget Sound region of Washington State in the USA for my entire life and as such I have been fortunate to be surrounded by amazing fishing opportunities. In 2003 I started my quest to catch and photograph as many native trout and salmon as possible and I continue to pursue this quest to this day. My passion for native trout has been a driving force in my life and has led me to pursue a career as fisheries researcher and biologist. From 2013 to 2017, I took a hiatus from my native trout quest to attend graduate school at the University of Washington. While at the University of Washington, I got my masterís degree doing research on the interactions between resident Rainbow Trout and juvenile steelhead on the Olympic Peninsula in Washington State. I spent 11 years as a fisheries scientist with the Washington Department of Fish and Wildlife, specializing in issues surrounding hatchery wild interactions for salmon and steelhead, and steelhead life history and marine survival patterns. In 2022, I joined Trout Unlimitedís Wild Steelhead Initiative as their Steelhead Science Advisor.
Updates
This site and its companion blog will be updated periodically, so be sure to check back from time to time.